Hello Friends and Fiends!
It's hard to believe that we're already at the halfway mark of 2021. This month was a little—okay, a lot—slower for me, and honestly, I'm okay with that. I needed a bit of a break, so I took one, which is something I'm not feeling guilty about these days. With that said, I did finish up taking an 8-week philosophy course this month (which I really loved!) and I'm in the midst of wrapping up a graduate class as we speak, so don't get the wrong idea. I'm still a maniac even when I'm resting.
On the horror front, I didn't watch too many new movies this time around, although I did catch Caveat and The Conjuring 3: The Devil Made Me Do it. Caveat was decent, although it left me wanting. I didn't like The Conjuring at all. Something that I did enjoy, however, was a rewatch of Jennifer's Body and Don't Tell Mom the Babysitter's Dead. Those ones always make me smile.
On the book front, I read all over the place again:
Root Magic

by Eden Royce

Shame Is an Ocean I Swim Across

by Mary Lambert

Firstborn

by Louise Gluck

Descending Figure

by Louise Gluck

The Lathe of Heaven

by Ursula K. Le Guin
I also started reading/re-reading Shirley Jackson's collection Dark Tales, and while there are a few in there I've read before, most of them are new to me. I'm completely blown away by these stories, and now I'm starting to question what my favorite is of hers. Right now, I'd probably have to go with "What A Thought" because I'm still in shock at how deliciously evil and violent that story is. *Sigh* Jackson is my comfort read so I've been spending a lot of time with her this month, and I'm also in the middle of Susan Scarf Merrell's book Shirley so you can clearly see where my head is at lately.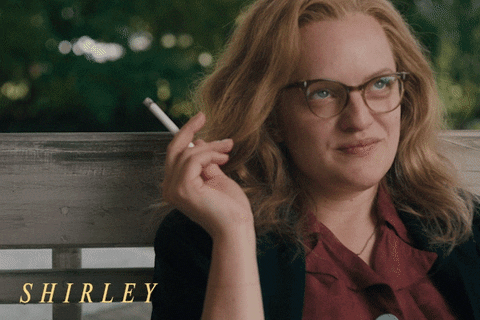 Some other fun things that happened this month:
I got to sit on a wonderful panel moderated by Michelle R. Lane on women in horror. I chatted with Linda Addison, Lee Murray, Lucy Snyder, and Lisa Morton about a bunch of topics, and in addition to feeling positively energized afterward, I also loved that I got to support and be a part of SHU's IYWM retreat.
I wrote an article for LitReactor where I discussed imposter syndrome, writer's block, and some rituals I use for tackling the blank page. You can read it here.
I found out my poetry collection The Apocalyptic Mannequin is a nominee for the Elgin Award.
I was happy to interview Holly Lyn Walrath about her recent poetry release from Clash Books: The Smallest of Bones. You can read the full transcript here.
I wrote an article celebrating some of my favorite queer poetry collections for my blog, and you can read it (as well as last year's pride showcase) here.

I held a quiet solstice/Midsummer celebration this year with a nice fire under the full moon and a beautiful simmer pot. I've been enjoying our little garden a lot this year, and I was so excited that I was able to use the roses and mint we grew in some of my spell work this month. It's the little things!
Looking to the future, I'm eager to catch up on some writing projects this month and finish up a few books I'm in the middle of. As an update for the HWA Poetry Showcase, we're in the middle of judging the submissions now and I'm looking to have all acceptances/rejections out by the end of the month.
Until then, I'll be locked up in my house reading and writing while covered in puppies and the madness of an endless TBR pile. I hope you are all doing well and taking care of yourselves, especially as the world starts to reopen and stretch its arms again. I'm slowly making my way out here and there, so hopefully, I'll even get to see some of you soon!
Best,
Stephanie M. Wytovich