February '23 Madhouse Recap
Hello friends and fiends–
I feel like I blinked and February was over, and to be honest, this month really tested my ability to keep my cool (spoiler alert: I didn't keep my cool). My sensory issues have been getting worse and it's making home life a little challenging with two pit bulls and a 1-year-old, but I've been using my sensory ear plugs and they've been really helping, so I think I'm just going to have to lean on them more. Plus, I don't think the steady streaming of Elmo's World and Baby Shark is really helping. I joke with Dennis that we worship at the house of the Red God now.
Speaking of health, I've been trying to get clever with my cooking this month and have been finding lots of vegetarian recipes that are quick and easy to whip up and have on hand for lunches. I've been making this kale salad a lot lately that has dried cranberries, walnuts, and wild grain rice all mixed together with some sun-dried tomatoes and chia seeds, and it's really good (and filling!). I found another one on TikTok that I want to try that uses sliced carrots as a base. Apparently, it's a favorite of Florence Pugh, so that's good enough for me!
I did manage to carve out some time this month to relax and spend time with friends, though. Jennifer came up for the weekend and we surrounded ourselves with book talk, tea, good food, and lots of good conversation. We have so many plans for RDSP that I'm just over the moon excited about, and it's really inspiring and I can't wait to start working on some things here soon. Heidi and Jason even joined us for a bit and got to meet Evie, and it felt good to just have the gang over and laugh and make plans for the future.
Speaking of books, I won a GoodReads Giveaway last month: The Destroyer of Worlds: A Return to Lovecraft Country by Matt Ruff. Eek! Christa Carmen also released the cover and preorder information for her book The Daughters of Block Island, which I immediately preordered–because obviously.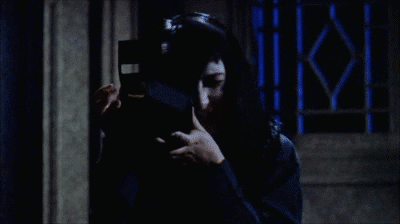 Evie stayed at my parent's one weekend and Dennis and I got to kind of catch our breath and spend some time together for Valentine's day. We went downtown and hung out at the strip, reenacting our first date. We tried a new coffee place, played pinball, went to the candy store, and visited some of our favorite shops. I left with my pockets full of antique keys, star mica crystals, and some beautiful rose-hibiscus perfume that Dennis picked up for me at Roxanne's. We then had lunch at Allegheny Tavern and left full and happy.
I also got to meet up with Michelle Renee Lane last month, which was way overdue! We met at the Steep Mountain Tea Company in Greensburg (which I'm now obsessed with) and caught up over Chocolate Strawberry Lattes and pastries. Then later in the month, it was my brother's birthday so he and my sister-in-law came in for the weekend and we all went to go see Beetlejuice The Musical, grabbed dinner at Nicky's Thai Restaurant, and then got drinks at Con Alma. Wrap that all up with the fact that I finished my Agatha Christie puzzle and made it to spring break in my psychology class and well, all I can really say is onward!
On the writing/teaching front:
To see Writing Poetry in the Dark be a finalist in the nonfiction category is a dream. It was one of my writing life goals to edit a collection of speculative poetry essays and I'm so happy with how this turned out and then to see it on the ballot? Honestly, it's emotional. A million thanks yous to Jennifer Barnes and John Edward Lawson for helping me with this vision. Beyond that, Cina Pelayo's essay (from Writing Poetry in the Dark) was nominated in short nonfiction, which is just incredible news, and when you add that hers and Donna Lynch's poetry collection made the ballot, too? I'm just so incredibly proud and excited and honored to continue working with such creative, brilliant people. I know how hard you both worked on those books and it's wonderful to see you getting recognition for that. *hugs* And speaking of kind and brilliant people, Lindy Ryan's anthology Into the Forest: Tales of the Baba Yaga is nominated in the anthology category and I could not be more over the moon for her. I love this project with all my heart and it was such a joy to be able to participate it in. Congratulations to everyone nominated, to everyone out there writing, to everyone celebrating and championing horror. I'm happy to be beside you all.
I'm honored that my poem "Dinner Plans with Baba Yaga" has made the long list for the Rhysling Award. This piece was originally published in Into the Forest: Tales of the Baba Yaga, ed. by Lindy Ryan (Black Spot Books). Congrats, everyone!
My undergrad students and I recently finished reading My Sister, The Serial Killer by Oyinkan Braithwaite. One of the creative assignments I used this semester was for them to select five songs that made them think of the book so that we could construct a reading playlist, and I think it turned out really great. If you're interested, you can check it out here.
Last month in The Madhouse, I was honored to host Tiffany Morris and talk about her cosmic masterpiece: Elegies for Rotting Stars. Join us here.
Lovesick, Issue #4

I Hate Fairyland, Issue #4

Farmhand, Vol 1 by Rob Guillory

Farmhand Vol 2 by Rob Guillory

Eat the Rich by Sarah Gailey

Poison Ivy, Thorns by Kody Keplinger

A Book of Days by Patti Smith

The Truth is Told Better This Way: Poems by Liz Worth

And Yet: Poems by Kate Baer

Winter Trees by Sylvia Plath

If you haven't read her radio play

Three Women

, please do. I think it might be my favorite piece she's ever written.

My Sister, The Serial Killer by Oyinkan Braithwaite (reread)

Daphne by Josh Malerman

Such Sharp Teeth by Rachel Harrison

Literally Dead: Tales of Halloween Hauntings edited by Gaby Triana

Flash Fiction, Nightmare Magazine: "A Girl of Nails and Teeth" by Hannah Yang

Flash Fiction, Nightmare Magazine: "In the Water" by Rowan Wren

Flash Fiction, Nightmare Magazine: "There Are No Monsters on Rancho Buenavista" by Isabel Canas

Flash Fiction, Nightmare Magazine: "The Mothers" by Laur A. Freymiller.

Flash Fiction, Nightmare Magazine: "Now Will You Listen" by Osahon Ize-Iyamu



On the media front:
Don't Worry Darling (2022), We Have A Ghost (2023)

You, Season 4, Part 1: I gotta say, this entire series has become such a comfort watch for me and this season is living up to just that. It's like a cozy murder mystery with one of my favorite villains, and I'm here for the old English settings and Agatha Christie vibes. However, I will say that I'm so happy Joe is paired with and going after a guy this season. It's a nice change of pace, even if we do see his old habits break through now and again. I'm looking forward to Part 2 in March, and I'm sure I'll happily binge it on its release day!

Wayward Pines Season 1: I've had this show on my radar for a while now, but randomly decided to pull the trigger on it last month. I enjoyed the first season…even if this was nothing like I expected it to be. I made it about halfway through season 2 and lost steam. I might finish it eventually, but I'm not in a rush to do it.
Also as a reminder, if you enjoy and appreciate the work we do here in The Madhouse, you can show your support for the blog by "buying a coffee" (or two!) for our madwoman in residence: me! As always, I thank you for your time and support and I look forward to serving you another dose of all things unsettling and horrifying soon.
Best,
Stephanie